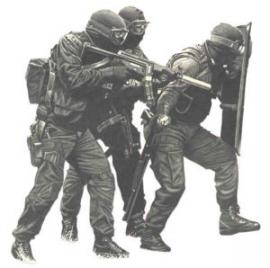 In this one day class you will lean the following:
Equipment evaluations

Advanced Subject Take Downs

Hi-Threat Handcuffing & Control

Hi-Threat Building Search (Dynamic)

Building Search (Stealth)

Two man room clearing


Proper use of Entry-Tools

Dealing with 3rd party subject

Dealing with Uncooperative Subjects

Class Objectives:
Legally Arrest & Detain a Fugitve
Legally Handling of 3rd Party Subjects
Safely Clearing Building
In this class you will need to bring:
Normal Equipment that you use in Recovery
Cost: $150.00 per student Pre Enrollment is Required…minimum of 6 students to hold training.
8 hours of Missouri CE Credits will be offered. Class will start at 9:00 AM Sharp and will run the full day.
Instructor: Brenner
WARNING: This Class is Hands On and Requires Physical Involvement